24 Option is a big trading site for binary options. A majority of the binary options here are based on company shares, an index, a currency pair or a commodity. Several different binary option styles are available, including super-quick options that will mature after 30 seconds.
You can trade from a computer or on a mobile device.
A lot of course material is available at 24 Option for any member that wants to learn more about binary option trading and become a more successful trader.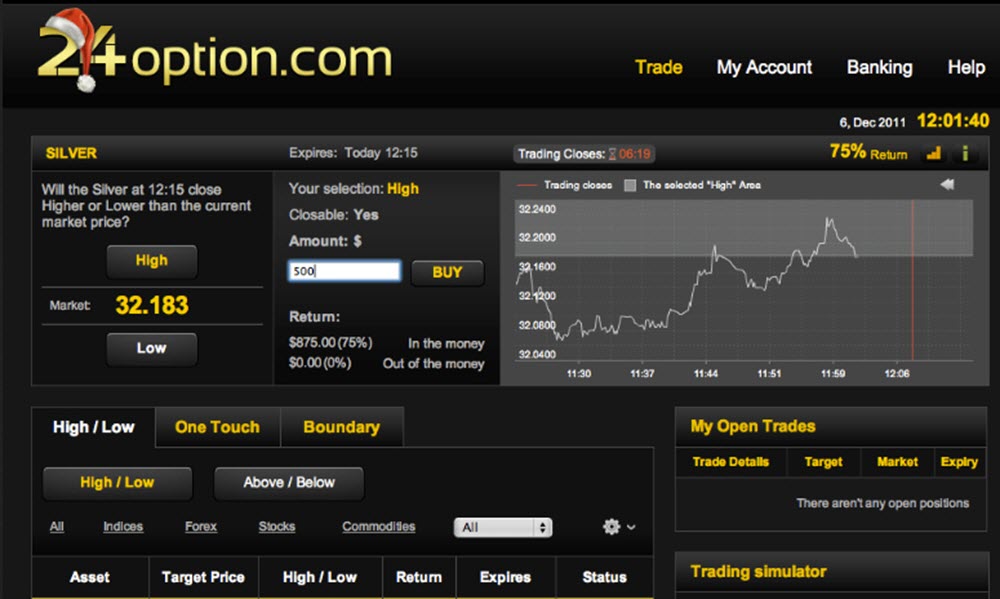 Short facts about 24Option
| | |
| --- | --- |
| Founded | 2010 |
| Owner | Mika Holdings Inc |
| License | Cyprus Securities Exchange Commission (CySEC) |
| Languages | English, French, German, Spanish, Italian, Portuguese, Swedish, Danish, Lithuanian, Russian, Chinese, Japanese, Korean, Arabic, Romanian, Turkish, Indonesian |
| Mobile trading | Yes, |
Trading platform
The 24Option trading platform is easy to use and navigate, and will very clearly display important option information such as option type, maturity time, price and payment. During our tests, the platform has been stable and not bug-riddled or prone to freezing up.
The trading platform is web browser based, which means that it doesn't matter what kind of operative system your computer or mobile device is using. There is no trading client to download and install on your computer. For mobile devices, apps are available for iOS and Android. The iOS app can be downloaded from Apple's App Store and the Android app can be downloaded from Google Play.
Trading accounts
To suit the needs of various traders, 24Option offers three different trading accounts:
The standard accountThis is the basic 24Option account, the one most traders start out with.
The golden accountThis account is available for high volume traders and comes with various perks, including unlimited trading with binary options based on financial instruments. With a golden account, you get an extra 2% payout.
The platinum accountThis account is a step up from the golden account. It comes with all the benefits of the golden account, plus perks such as personal coaching. With a platinum account, you get an extra 4% payout.
Binary option trading
Here are a few examples of binary options that you can buy at the 24 Option platform.
The classic binary optionThis is the most common type of binary option. To put it simply, your task is to accurately predict if the underlying financial instrument will go up or down. On these options, you can get up to 91% profit at 24 Option.
The interval binary optionInterval options, also known as in/out binary options, are still only available at a handful of trading platforms and the 24 Option platform is one of them. Instead of predicting if an underlying financial instrument will go up or down, your task is to predict if the price of the instrument will be within a certain pre-determined interval when the option matures.
The one-touch binary optionIf the underlying financial instrument reaches a certain pre-determined prize during the life time of the binary option, you get paid. This is a binary option where the entire lifetime of the option is taken into account, not just the prize of the financial instrument on the maturity date of the binary option.

You can get a very high profit from these binary options at 24 Option, over 500% for some of them.

The super short optionThis as an option with a super short lifetime. The quickest ones available at 24 Option will mature 30 seconds after purchase. At 24 Option, it is usually the classical-style option that is offered in this super short format. The standard payout for a correct prediction is 67%.
Underlying instruments
A majority of the binary options offered at 24 Option have a company share (stock), an index, a currency pair or a commodity as the underlying instrument.
Commodities
Examples of commodities that underlies binary options at 24 Option are platinum, gold, silver, copper, crude oil, maize, coffee, and sugar. For gold, binary options are not just available for the prize of gold in USD, but also for EUR and JPY. Binary options are also available based on the prize of gold in relation to the prize of silver.
Index
When it comes to binary options based on the movements of an index, famous ones like Dow Jones, Nasdaq Composite, FTSE-100, DAX-30, S&P 500 and Nikkei 225 are available of course, but also less famous ones such as South Africa 40 future, Bombay 30, TA-25, Tadawul, and MICEX are represented – to mention a few.
Currencies
Examples of currency pairs that forms the underlying for binary options at 24 Option:
USD/CAD, USD/CHF, USD/JPY, USD/MXN, USD/NOK, USD/RUB, USD/TRY, USD/ZAR
EUR/AUD, EUR/CAD, EUR/GBP, EUR/JPY, EUR/NOK, EUR/TRY, EUR/ZAR
GBP/AUD, GBP/CAD, GBP/CHF, GBP/JPY, GBP/USD
AUD/CAD, AUD/CHF, AUD/JPY, AUD/NZD, AUD/USD
CAD/CHF, CAD/JPY
NZD/CHF, NZD/USD
CHF/JPY
Company shares
Examples of shares that forms the underlying for binary options at 24 Option:
Amazon
Amex
ANZ
Apple Inc.
AXA
Baidu
Barclays PLC
BBVA
Beiersdorf
BHP Billiton
BMW
BNP Paribas
British Petroleum PLC
Citi Group
Coca Cola
Deutsche Lufthansa
Disney
E.ON
Exxon
Facebook
Fiat
France-Telecom
Gazprom
Google Inc.
IBM
ICICI
JPMorgan Chase
McDonalds
Microsoft
Nike
PetroChina
Rio Tinto
Rosnef
Royal Dutch
Samsung Electronics
Societe Generale
Sony
Sumitomo
Tata Motors Ltd
Tesco
ThyssenKrupp
Vodafone
Westpac Banking Corporation
Bonuses and other perks
24 Option has a rather complex bonus system with a lot of short-term and long-term campaigns, and you trading account type will also impact which bonuses and perks you qualify for. Deposit bonuses are frequent, and you can sometimes negotiate an individual deposit bonus with the support staff if you want to make a fairly large deposit and fail to find a suitable deposit bonus offer among those that are openly listed.
In addition to bonus offers, 24 Option is known to offer so called "risk free" trades where you get your lost money back in the form of bonus money (with a trading requirement).
Now and then, 24 Option have trading contests where the most successful traders are rewarded.
Customer service
English language customer service is available by phone, email and live chat.
Phone support: +357 25 262063
Email support: info@24option.com
Live chat: Click on the link for live chat on the 24Option site to open a small window for live chat
24Option also offers support in several other languages. Visit the site for more information. Depending on where you are in the world, a local phone support number may be available for you so you don't have to call abroad.
Deposits and withdrawals
Examples of transaction methods accepted by 24Option:
Bank transfer
VISA
MasterCard
Discover Card
Delta
Neteller
Skrill
GiroPay
AstroPay
WebMoney
QIWI
The smallest possible deposit is 250 USD (or similar in another currency).
You can do one free withdrawal per month. If you want to withdraw money from your account more frequently, you have to pay a withdrawal fee.
Owner ship, licensing, etc
24 Option is owned by Mika Holdings Inc. This is a company registered in the British Virgin Islands. The headquarter is in London, England.
The license for 24 Option doesn't come from the British Virgin Islands or from the United Kingdom, but from the Cyprus Securities Exchange Commission (CySEC).
In addition to 24 Option, Mika Holdings Inc also owns OptionFair.