The online broker eToro is chiefly famous for their social trading, their huge selection of Contracts for Difference, and their support for cryptocurrency trading.
eToro was founded in Israel during the second half of the 00s and has grown a lot since then. Today, they have subsidiaries in many countries to offer safe and legal trading in various geograpical regions.
A few examples of what you get from eToro
Access to social trading
Access to a huge assortment of Contracts for Difference (CFDs)
Tools and data for Technical Analysis
Access to leveraged trades (max 1:30)
The eToro on-chain e-wallet app for cryptocurrency. It is available for both iOS and Android, and supports cryptocurrencies such as Bitcoin, Litecoin and Ethereum.
The trading platform
Etoro use the bespoke Webtrader platform. It is easy to use and available for both download and browser trading. You can also trade directly on your mobile device: there is one eToro app for iOS and another one for Android. They work well on both smartphones and surf pads.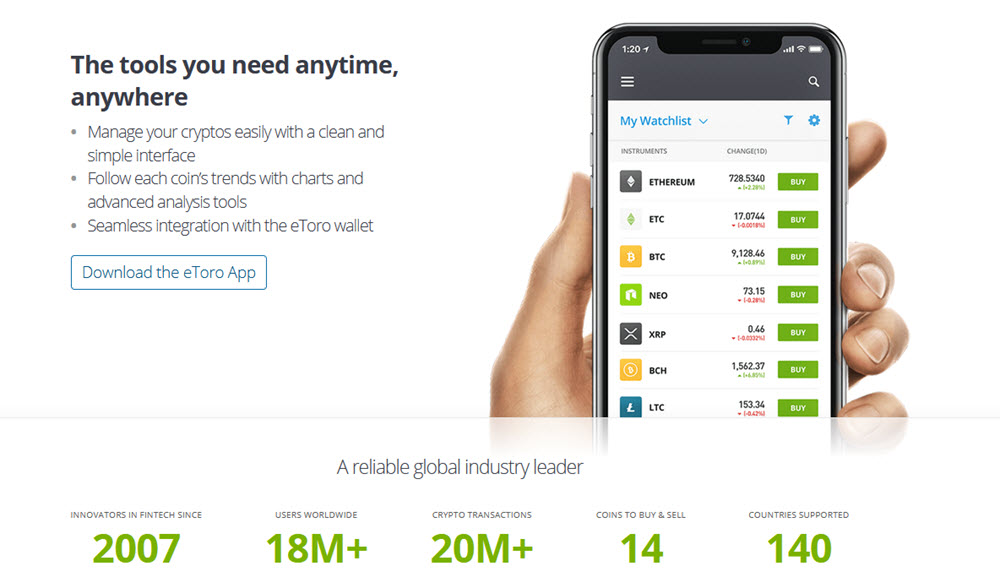 Contracts for Difference
Contracts for Difference (CFDs) is a great way of gaining exposure to an asset without actually going through the trouble of buying and selling said asset. At eToro, you can for instance speculate on the share price of over 950 different share companies around the world without ever owning a share in any of them. Other examples of available underlying assets at eToro are Exchange Traded Funds, FX currency pairs, cryptocurrencies, and commodities. CFDs based on various indices (indexes) are also available.
For some underlying assets, such as shares, the trading hours are limited. A CFD based on a share traded on a stock market in Australia will be available for trade during Australian trading hours, and so on.
Trading account
You don´t have to worry about selecting the best trading account type at eToro because all real-money trading takes place in the same account type: The eToro Standard Account. To get started with real-money trading, you need to deposit at least 200 USD. (Note: Special rules apply within the United States.)
What´s a Demo Account?
The eToro Demo Account is for play-money trading. You can open a Demo Account for free at eToro and use it to explore the Webtrader platform with your play-money. Don´t risk any of your onw hard-earned cash until you know you like the platform and know how it works!
Customer support
Regretably, the customer support is only open during weekdays. You will not get any help during the weekends. On the plus side, it is staffed around the clock during the weekdays.
To reach the eToro support, use the email form at the eToro site.
Deposits & Withdrawals
Examples of accepted transaction methods
VISA
MasterCard
Diners
Bank Wire Transfer
PayPal
Neteller
Skrill
WebMoney
China UnionPay
Yandex
Other info
Smallest deposit outside the United States is 200 USD.
Smallest withdrawal will depend on your selected transaction method.
Expect a processing time of at least 3 bank days for withdrawal requests.
eToro charges a 5 USD withdrawal fee per withdrawal. If a currency conversion is required, this can add an additional fee.