Plus500 offers a huge selection of Contracts for Difference (CDFs) based on shares, options, commodities, indices, foreign currency, cryptocurrency, and more.
CFDs makes it easy to speculate on price movements without actually buying, owning and selling the underlying assets. You can make money in both rising and falling markets, without the hassle and risk thar comes with the short-selling of assets.
The Plus500 trading platform is open 24/7 and the customer support is staffed 24/7.
You can trade on computers, smartphones and surf pads. The interface is easy to navigate, even on small screens.
Does Plus500 offer CFD:s based on cryptocurrency?
Yes, they do. You can for intance gain exposure to the movements of Bitcoin, Litecoin and Ripple by using CFDs from Plus500.
Does Plus500 use the MetaTrader4 trading platform?
No, Plus500 have their own bespoke Webtrader trading platform. It is available for download, but will also work great directly in your web browser.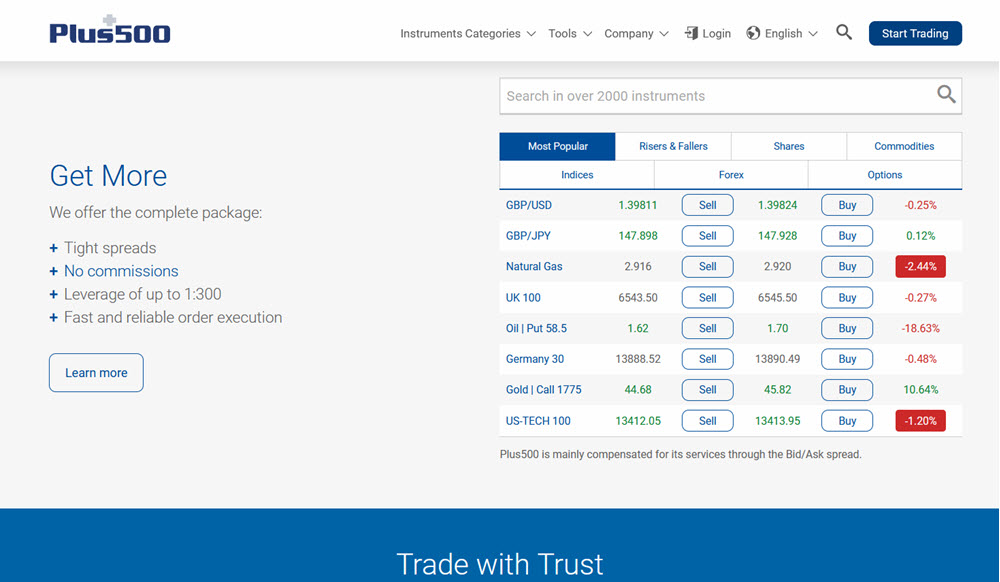 Is mobile trading available?
Yes, there is one Plus500 Webtrader app available for iOS and another one for Android. Both works great on both smartphones and surf pads.
Is Plus500 offering leveraged trades?
Yes, they do. Highest possible leverage is 1:300, although local laws can limit this.
Can I chose between different trading account types?
No. All real-money trading at Plus500 takes place in a Plus500 Standard Account.
How much money to I need to get started?
You can learn how the Webtrader platform works with zero money, because you can open a free Plus500 Demo Account and explore the platform using free play-money.
When you want to trade using real money, a 100 USD deposit into your Standard Account is required. This is significantly lower than what many other online brokers require, and it has helped make Plus500 a popular choice among novice nano-level traders who don´t want to make a big initial deposit.
Customer support
Phone support: No
Email support: Yes
Live chat support: Yes
The customer support is always staffed, 24/7.
The lack of phone support is downside, but the live chat makes it possible to still get help in real-time.
Deposits & Withdrawals

Deposits
Smallest possible deposit is 100 USD.
Withdrawals
A withdrawal request will typically take three days of processing at Plus500.
The size of the smallest possible withdrawal depends on the transaction method.
Plus 500 does not charge a withdrawal fee. Always check the costs (if any) charged by the transaction provider, e.g. VISA, PayPal, etc.
Examples of accepted transaction methods
VISA
MasterCard
PayPal
Skrill
Bank transfer
About Plus500
Plus Ltd is British-based and listed on the London Stock Exchange (Main Market).
Plus Ltd have several subsidiaries around the world and these subsidiaries hold local licenses from applicable authorities. There is for instance the Plus500CY Ltd subsidiary, which is based in Cyprus and licensed by the Cyprus Securities and Exchange Commission (License No. 250/14). Since Cyprus is a European Union member, this subsidiary must also adhere to the EU legal framework, e.g. when it comes to consumer protection for small-scale private traders.